Welcome to the Office of Apprenticeship and Work-Based Learning at Custom Training Solutions! Custom Training Solutions, a div. of Northwest State Community College is northwest Ohio's one-stop source connecting education, industry, and apprentices to workforce solutions. CTS can help you create your future workforce, improve productivity, and reduce turn-over! All of this is possible with a high-quality apprenticeship program.
785K+
New Apprentices Since January 1, 2017
Apprenticeship has a proven track record of producing strong results for both employers and workers.*
$70K
Average Starting Salary
Average starting salary after an apprentice completes an apprenticeship program.*
94%+
Employment Rentention
Percentage of apprentices who retain employment after apprenticeship completion.*
$300K+
Lifetime Earning Advantage
Apprentice graduates earn more over their lifetime compared to peers who don't.*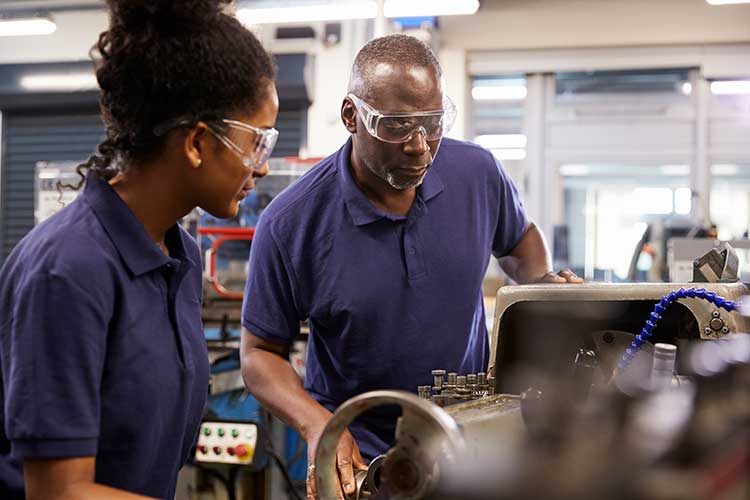 Mentoring is a key component to the success of an Apprenticeship Program. A mentor is more than someone who assigns tasks and reviews performance. A mentor facilitates personal and professional growth in an individual by sharing the knowledge and skills of their trade that they have learned throughout the years. It is vital that a mentor has the desire to want to share these "life experiences" with a less experienced trainee. 
Additional characteristics of a mentor are good communication skills, good work habits, patience, trustworthy & respectful, and a sense of humor.
Our training will provide mentors with an understanding of the many roles they will play, such as, coach, guide, teacher, counselor, motivator, advisor, role model, and door opener. Mentors will also learn about adults as learners, generational differences, learning styles, and how to perform hands-on training. These skills will aid in the development of the apprentice to provide the company with a well rounded, skilled, and productive employee.
Start an Apprenticeship Today!