EDGE
EARN-AND-LEARN PROGRAM
GET AN EDGE ON YOUR CAREER
| EDGE Earn & Learn Program
The EDGE Program provides training in industrial maintenance, an in-demand career that combines mechanical and electrical components. Upon completion of the program, graduates are qualified to work as preventative maintenance and industrial maintenance technicians. Best of all, the employer connections made through the program often lead to full-time employment right away!
With continued experience, graduates can advance through a career pathway that may include being a multi-craft maintenance technician, maintenance supervisor, and eventually a plant/facilities manager.
So, what does someone in industrial maintenance do anyway? We're glad you asked! Some common tasks include maintaining automated systems and equipment, optimizing efficiency, installing new equipment, and troubleshooting equipment failure.
Industrial maintenance isn't just in demand now. It's a career that is projected to have continued growth over the next 10 years.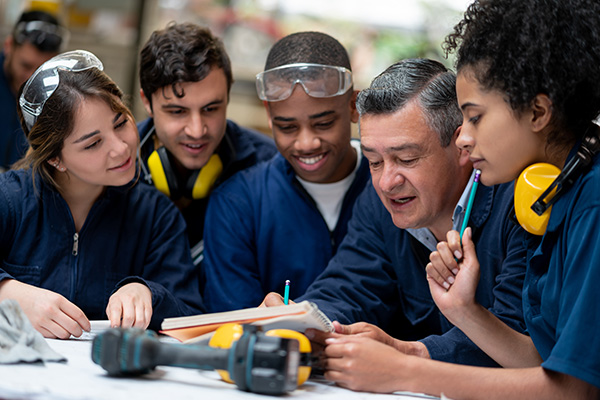 Built for Success
This program exists because local employers need skilled workers and we want to help workers and employers succeed. We've designed this course with success in mind, planning the details so students simply work the plan.
Cohort Model: You'll be with the same group throughout the program, providing you with support, shared resources and a built-in team.
Proactive Advising: Advisors are here to help you stay motivated and connect you with strategies and tools to help you overcome any obstacles.
Intentional Scheduling: We've outlined what will happen when, taking the guesswork out of scheduling and ensuring students earn the right skills at the right time in the program.
Financial Assistance: Students have the potential to complete this program with little-to-no out of pocket costs. A variety of funding resources are available, including scholarships that cover tuition for Henry County students.
Find Out More
Participants must be at least 18 years old and eligible to work in the U.S.