"This was an instant return on investment, as we were about to build all new tooling for this set up, which most likely would have equaled or exceeded the training cost. It really made everyone around here happy today, saved a weeks' worth of work and everyone was empowered by it."
Mike Deye, owner of HPC Finishing
When it comes to industrial technologies, the most competitive companies are those with highly-trained employees. With technical training from CTS, your employees will get hands-on experience with the most technically advanced systems in use today. Whether on-site with portable training equipment, in the classroom or via distance learning, we can customize programs based on your specific operations and equipment.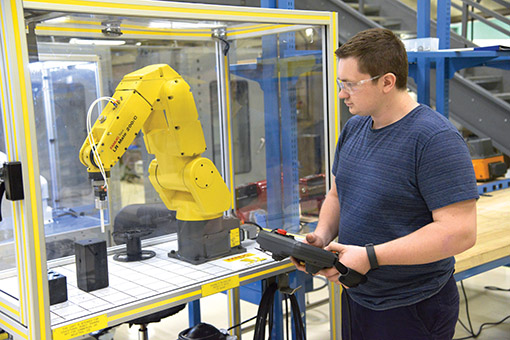 CAD/CAM
Choose from introductory to advanced classes on the use and application of GibbsCAM software. Our training covers a variety of topics, including:
CAD quality
SPC basics
Statistical process control and capability
Regression modeling and ANOVA
Design of experience
For more options, see our full catalog
PLC/HMI Controls
We specialize in training courses for Allen Bradley and Siemens controls, ranging from introductory to advanced. Some of our many training topics include:
Allen Bradley SLC-500, PLC-5, ControlLogix, CompactLogix and Devicenet
Hydraulics and pneumatics, rigging, bearing and power transmissions
HMI: Wonderware and Panelviews
Siemens S7 PLC
Instrumentation/process control
Plastics training, including injection, tooling, materials, extrusion and setup
For more options, see our full catalog
Robotics
Robotic technology isn't the future of manufacturing. It's now. Are your employees prepared? Our introductory robotics course builds a foundation of knowledge by introducing participants to basic systems and operations, reinforced through hands-on training.
Build on that basic knowledge with our advanced course, which covers advanced programming, flex cell system integration and troubleshooting. Hands-on labs ensure students not only have the knowledge, but also understand how to apply it.
While our courses utilize the FANUC robot and controller system, this training is applicable to a variety of robotic systems.
Industrial Automation Maintenance
As manufacturing becomes more automated, the need for qualified technicians continues to grow. We offer individual courses to help fill skills gaps, a short-term certificate program designed to help advance career options, and an associate degree for those who want to take their IAM skills to the next level.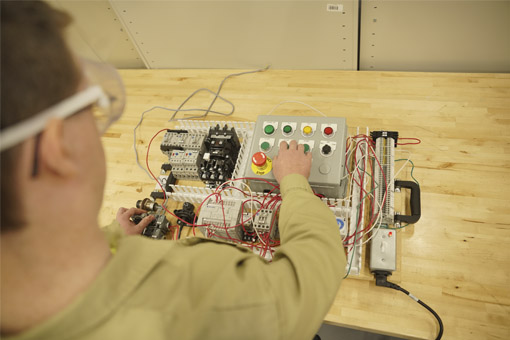 Industrial Electrical
Maintenance personnel have some of the most diverse job responsibilities in the plant. While their skillset is usually moderate in many fields, advanced training in some topics is necessary to help ensure safety and success. Our industrial electrical courses are designed to help bridge the gap between a maintenance technician's basic knowledge and the more advanced electrical skills that are beneficial in a variety of industrial settings. Course topics range from DC & AC principles to installing and troubleshooting electric motor drives.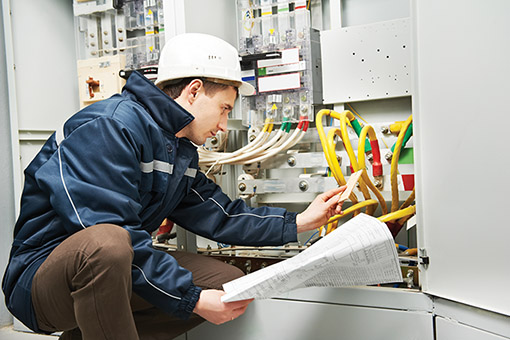 Fluid Power
Fluid power has transformed the way energy moves in the industrial setting. The right training will help ensure your employees are prepared to use this technology to its fullest potential. We offer both an introductory and an advanced class in industrial fluid power. These courses explore:
The physics of fluids
Troubleshooting and design applications for hydraulic and pneumatic systems
Hands-on work with electro-pneumatic valves, PLCs, in/out boxes and electrical switching devices
MSSC-Certified Production Technician
The Manufacturing Skills Standards Council (MSSC) is the leading certifying organization for front-line manufacturing and logistics employees. We are proud to partner with the MSSC to offer Certified Production Technician training. The program covers safety, quality practices & measurement, manufacturing processes & production, maintenance awareness and green production. Students must demonstrate their competency in each area through skills assessments in order to earn the certification.
For more options search our online catalog.
Contact us to get started today!